WeChat is an application which allows you to easily connect with people around the world. The application has multiple features like free texting, you can have free calls with your friends. It also offers video messages. It's totally free of cost no annual subscription fee. You can make different groups for your friends, add them and have fun. You can directly share your life moments with your friends via Facebook and twitter. Its best feature is that you can find different people around you and greet them.
You can discover many people living around you by shaking your device, You can share your QR code, Chat history backup, Stickers gallery.
People nearby and Walkie Talkie are the hottest feature of WeChat.
It is available for multi platforms like Apple store, Google Playstore, Windows app store, Nokia and Blackberry also you can install it on your Desktop PC.
In this tutorial I'll show you how to install WeChat application on your android device.
Below are the some steps to Login to WeChat

First you need to open your Google Playstore and search for WeChat, Download it and install it in your device.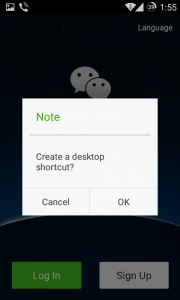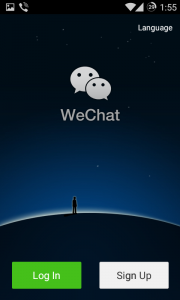 Once you installed it. On first launching it will ask you to create a shortcut on your device. After that the screen will ask you for signup and login. If you have an old account on WeChat than click the Login button and enter you information and you are ready for WeChat. But if you don't have any WeChat account before than you need to register your account for it .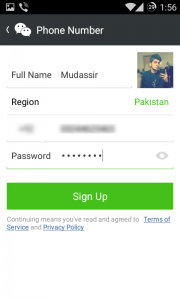 Click the Signup button, Enter the specific information in the fields, On the next screen you will find the phone confirmation process, the method is very simple , You have to enter your name , your region will automatically got selected depend on your location , enter your phone number , password and select the signup button , keep in your mind By clicking on the Signup button you have agreed with the term and conditions.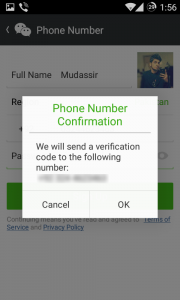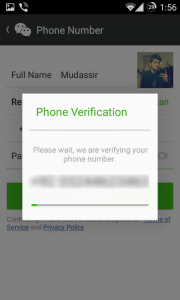 After you filled up the form click the signup button, be sure on clicking the signup button you will accept the terms and condition of WeChat. In next window it will confirm your phone number and after that you are finished with your registration.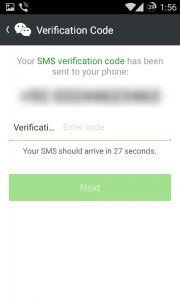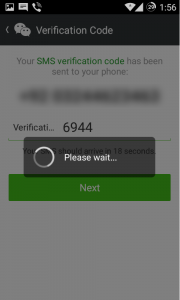 There is no proper way to delete your WeChat account once it is created , however you can Logout your WeChat account by Setting>>LOGOUT option. Your data will remain save on this account you can Login again any time.